A Short Treatment on Desolation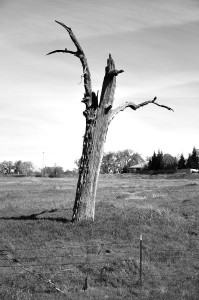 T
he feeling of being spiritually desolate is one of the most natural of the unnatural states that the soul can experience in this life. I say 'natural' because it is one of the most important tools that God uses to draw us ever so deeply into the divine reality of His life. In that way, all those who are in a relationship with the Triune God will, at some point in time if not often, experience
desolation. 'Unnatural', because we were not actually created to ever be absent from God. The Lord created us to be in perfect union with Him as co-partakers in His divine nature. It is only because of humanities' 'Original Sin' that God now finds it necessary to court the fondness our hearts through absence.
The feeling of absence from God is a spiritual desolation, and that is all that desolation is – a feeling, but a feeling that is nonetheless extremely real. People will tell you that God is always present in your life and that He is never closer to you than when you feel the farthest from Him, and that is all true, but the feeling of desolation remains real and it hurts. The pain of desolation is not inauthentic or imagined. When the Lord was lifted up on the Cross and sung the Psalm, "Eloi, Eloi, lema sabachthan" (Mk.15:34; cf. Ps. 22), what He was doing was letting us know that temporarily suffering the feelings of loneliness and absence from God is a normal and necessary trial that we must endure through before we can ascend to a new level in relationship with the Triune God. That is to say that, it is through that very real feeling of desolation that God is actively doing something in the depths of our soul which will help to bring us into a new place with Him. In that way desolation is not only necessary, but it is a holy and beautiful thing.
What happens during desolation is that the hand of God ever so slightly recedes from the soul, and even the phrase 'ever so slightly' does not rightly describe the minuscule measurement from which God withdraws from us. For, even if God's hand were withdrawn just one angstrom from our soul we would immediately arrive at the pinnacle of suffering and wouldn't be able to stop crying tears of loneliness.
In his Texts for the Monks in India, St. John of Karpathos collects a story that addresses the value of God receding from the soul in this way:
"Imagine that the Lord is saying to you: 'For a time I have taken away from you this or that gift of grace, in which you expected your intellect to find fulfillment, and so to be at peace. To make up for this, I have given you instead some other gift. Yet you think only about what has been taken away, not noticing what has been given you in its place; and so you feel dejected, pained and full of gloom. Nevertheless, I am glad because of this gloom which I have brought ton you. I make you dejected for your own good. My purpose is not to destroy but to save you, since I regard you as My son.'
St. John of Karpathos is absolutely correct – desolation is the conveyor-belt upon which many of the gifts of God are given to us. Moreover, I find desolation to be a playful and beautiful irony that God loves to engineer in our lives; that, inasmuch as we truly feel as though we are sinking – descending through desolation, what is actually happening is that God is raising us up through it – we are literally ascending into Him and into glory through desolation. Therefore, next time you find yourself going through desolation, just know that, even in the midst of the pain, some great spiritual good is happening for you and your neighbor; that God is doing something magnanimous in your life. All that is necessary during hours of desolation is for us to just rest in the Lord of the Sabbath in prayerful anticipation for what He is doing. Just rest and trust in His work!