Through the Holy Eucharist, Jesus Points to His Ascension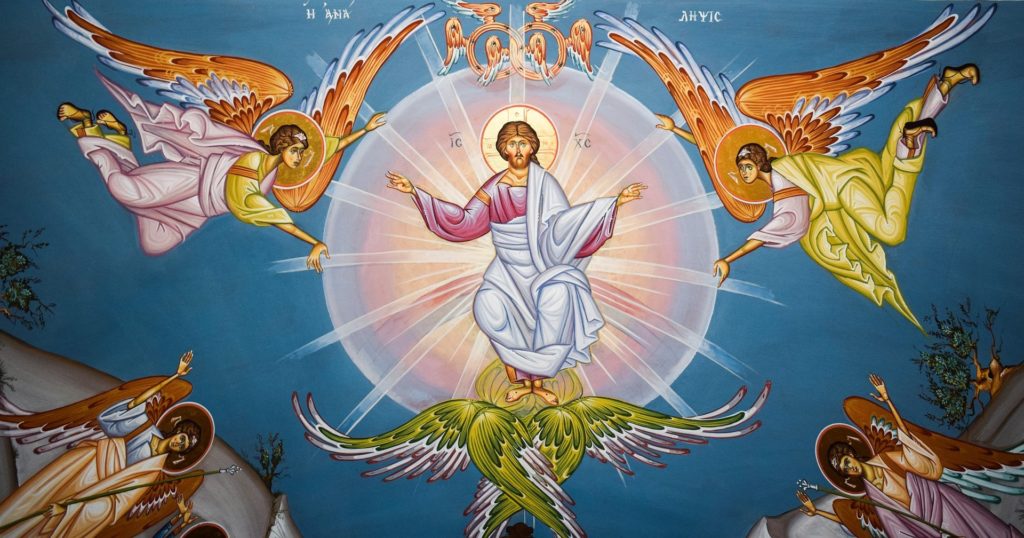 The Ascension of our Lord into Heaven is a Holy Day of Obligation in the Catholic Church; meaning that all Catholics, who are able to on that day, are obliged to participate in the Sacrifice of the Mass to be celebrated on either Thursday or Sunday of that week, depending upon the custom or current liturgical prescriptions in your diocese.
---
"In the first book, Theophilus, I dealt with all that Jesus did and taught until the day he was taken up, after giving instructions through the Holy Spirit to the apostles whom he had chosen. He presented himself alive to them by many proofs after he had suffered, appearing to them during forty days and speaking about the kingdom of God.

While meeting with the them, he enjoined them not to depart from Jerusalem, but to wait for "the promise of the Father about which you have heard me speak; for John baptized with water, but in a few days you will be baptized with the Holy Spirit."

When they had gathered together they asked him, "Lord, are you at this time going to restore the kingdom to Israel?" He answered them, "It is not for you to know the times or seasons that the Father has established by his own authority. But you will receive power when the Holy Spirit comes upon you, and you will be my witnesses in Jerusalem, throughout Judea and Samaria, and to the ends of the earth."

When he had said this, as they were looking on, he was lifted up, and a cloud took him from their sight. While they were looking intently at the sky as he was going, suddenly two men dressed in white garments stood beside them. They said, "Men of Galilee, why are you standing there looking at the sky? This Jesus who has been taken up from you into heaven will return in the same way as you have seen him going into heaven."
---
My favorite thing about the Ascension of our Jesus into Heaven is that it is the fulfillment of a very interesting statement He made in the Sixth Chapter of John's Gospel.
In the sixth chapter of the Gospel of John (vv. 22 through 70), we see our Lord teaching an assembly of Jews at a Synagogue in Capernaum. This group of Jews is actually the same one that was treated to the Didactic Mystery of the Multiplication of Loaves and Fish the day before. After waking up and realizing that the young Rabbi was no longer there with them, they got into their boats and sailed to Capernaum to look for Him. They went in search of Jesus because they were thirsting for something; perhaps for more food, more healings, or maybe the truth. Jesus correctly discerned their needs and said to them, "Amen, amen, I say to you, you are looking for me not because you saw signs but because you ate the loaves and were filled. Do not work for food that perishes but for the food that endures for eternal life, which the Son of Man will give you. For on Him the Father, God, has set His seal."
Notice that the seekers do not deny their hunger for more food or miracles, but rather they move to accept Jesus' invitation to discern how to work for the food that gives eternal life; they ask, "What can we do to accomplish the works of God?" Jesus answered and said to them, "This is the work of God, that you believe in the one He sent." So they said to Him, "What sign can you do, that we may see and believe in you? What can you do? Our ancestors ate manna in the desert, as it is written: 'He gave them bread from Heaven to eat.'"
The forthcoming lesson with our Israelite seekers is, 'Be careful of what you ask God for; because He might just decide to give it to you.' These Israelites asked Jesus how they could work to get the food that gives eternal life and He simply told them to believe in the one that God sent. They then asked for a sign comparable to the famous manna bread from the desert exodus that descended from Heaven, and Jesus went on to tell them that, "I am the Bread of Life; whoever comes to me will never hunger, and whoever believes in me will never thirst." In saying this, Jesus had just exceeded the limits of acceptable truth for many of the Jews gathered there. "The Jews murmured about Him because He said, "I am the bread that came down from Heaven." The Jews then began to forget about all of the miracles that they had just seen Jesus perform the day before and quickly reduced the young Rabbi back to terms they could accept. ". . . and they said, "Is this not Jesus, the son of Joseph? Do we not know His father and mother? Then how can He say, 'I have come down from Heaven?'" Jesus answered and said to them, "Stop murmuring among yourselves. No one can come to me unless the Father who sent me draw him, and I will raise him on the last day. It is written in the prophets: 'They shall all be taught by God.'"
Jesus was not teaching some sort of exclusive Gnostic doctrine or laying the foundation of John Calvin's 'absolute predestination' here! All He was telling them was that, 'If you do not believe that I am who I say that I am then stop wasting time talking to each other but, instead, pray to my Father and ask Him to give you the faith that you need to believe'. Nothing esoteric was being said here. It was just a plain old-fashioned invitation to faith and prayer!
In vv. 47 through 51, Jesus repeats His answer to their question, by telling them that He is the Bread of Life; that He is the new manna that descends from Heaven; that this bread is greater than the old manna – He said, ". . . whoever eats this bread will live forever; and the bread that I will give is my Flesh for the life of the world."
These were good faithful Jews here who were efforting greatly to discern who/what this young Rabbi is, and how they could Cooperate with God through His teaching, but they had just entered the Twilight Zone when Jesus told them to eat His flesh. Every faithful Jew knows that eating human flesh is a sin.[1] "How can this man give us [His] flesh to eat?" Jesus could have backed down here, but He decided to push them even further, to tear down their known reality; that is, what they knew to be absolutely true. Jesus knew that the law forbids Jews from drinking blood, but He commanded them to do it anyway. He said, "Amen, amen, I say to you, unless you eat the Flesh of the Son of Man and drink His Blood, you do not have life within you. Whoever eats My Flesh and drinks My Blood has eternal life, and I will raise him on the last day. For My Flesh is true food, and My Blood is true drink. Whoever eats My Flesh and drinks My Blood remains in Me and I in him."
"Then many of His disciples who were listening said, "This saying is hard, who can accept it?"" Indeed, these were very hard words for a faithful Jew to accept. The young Rabbi's teaching did not sound like a fulfilled teaching at all. It sounded like something completely new, foreign, and impossible! Jesus knew that they were scared and He could have backed down, but, instead, He persisted to press them even further. He went on to compare the miracle of the Bread becoming His Flesh to another miracle, which would also happen in the future. "Does this shock you? What if you were to see the Son of Man ascending to where He was before?" To paraphrase our Lord in the language of theology, 'If you cannot believe in the transubstantiation of the Seder bread and wine into my Body and Blood, then you cannot believe in the Ascension of my Body either.'
So it came to pass that the Son of Man did ascend to where He was before. Therefore we know for certain that Jesus was speaking literally when he called the bread we eat at the Passover meal celebrated at every Mass His flesh, and the cup of wine we drink His real Blood, because He Himself connected these teachings to the Jews with an event that was also real – His Ascension. "Does this shock you? What if you were to see the Son of Man ascending to where He was before?" In other words, for anyone to claim that Jesus was just speaking symbolically here in John when He calls the bread and wine His flesh and blood, or in the others Gospels when He calls the bread and wine His body and blood, then they must also submit that His Ascension was also just symbolic because Jesus made a parallel, permanent, and dependent connection between the two. That is, to accept one we must accept the other, and to deny one is to deny the other – they axiomatically follow each other. You cannot accept that our Lord has Risen without also accepting the Catholic teaching on the Sacrament of Holy Eucharist. To which, St. Paul also agrees when He says, "The cup of blessing that we bless, is it not a participation in the blood of Christ? The bread that we break, is it not a participation in the body of Christ?" (1 Cor. 10:16).
Writing about fifty years after Paul, St. Ignatius of Antioch also agreed in a letter he wrote to the Church at Smyrna,
"But consider those who are of a different opinion from us, as to what concerns the grace of Jesus Christ which is come unto us, how contrary they are to the design of God. They have no regard to charity, no care of the widow, the fatherless, and the oppressed; of the bond or free, of the hungry or thirsty. They abstain from the Eucharist, and from the public offices; because they confess not the Eucharist to be the flesh of our Savior Jesus Christ; which suffered for our sins, and which the Father of His goodness, raised again from the dead. And for this cause contradicting the gift of God, they die in their disputes; but much better would it be for them to receive it, that they might one day rise through it. It will therefore become you to abstain from such persons; and not to speak with them neither in private nor in public."
Indeed, one of the great beauties of the Ascension of our Lord is that it fulfills our hope. The Ascension teaches us that we can trust the words of God. What He proposes He performs. His words give life. It is true, God is trustworthy and worthy to be trusted with everything.
Prayer for the Solemnity of the Ascension of the Lord
O Almighty God,
whose blessed Son our Savior Jesus Christ
ascended far above all heavens that he might fill all things:
Mercifully give us faith to perceive that,
according to his promise,
he abides with his Church on earth,
even to the end of the ages;
through Jesus Christ our Lord,
who lives and reigns with you and the Holy Spirit,
one God, in glory everlasting. Amen.
Book of Divine Worship