The New Papal Diet – From Benedict Steak to Francis Milk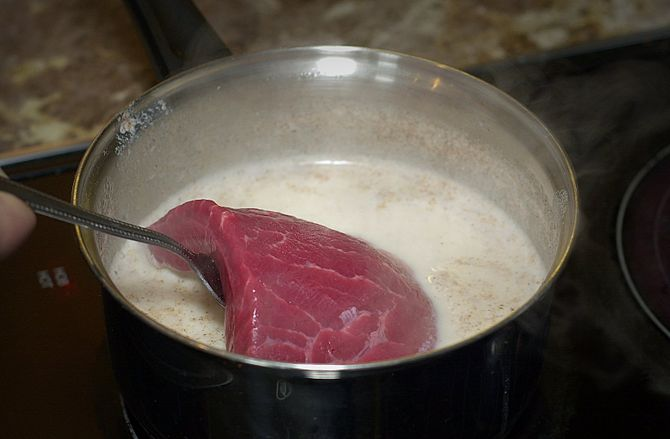 I spent the greater part of my twenties and early thirties being confident in the foregone conclusion that Jesus of Nazareth was a fictional character, created by people who needed religion as a coping mechanism. I like to say that I was more anti-Christian than I was Agnostic, but that's only because I could never certifiably prove that I actually was an Agnostic.
Nevertheless, in October of 2004, I had a very traumatic conversion to Christ. I've written in greater detail about the events that lead me up to that dark night, but the short story is that after a sinful course of events I eventually arrived at a place where I truly felt that I had nothing else to live for and decided to kill myself. What happened in the process of that attempt to end it all was that I literally heard the voice of Christ Jesus. He told me, "I love you. I am here." Of course, the immediate reaction was to look around to see who said that, but after I asked myself the question, "Who was that?" it immediately came to me that the voice I heard was Jesus. Now, having all the evidence then that Jesus is a real person and seems to have some substantive interest in my life, I picked up the Bible and read the Gospels of Matthew and Mark that night. Therefore, my very first encounter with the Lord was through hearing His word of mercy spoken in my ear. My next encounter with Him was through Scripture, and it was there that I would continue to prayerfully seek to draw nearer to Him.
For this reason, I felt that I had found myself in Pope Benedict XVI after I had converted to the Catholic Church in 2006. The first Papal encyclical I ever read was Deus caritas est (God is Love), and I thereon it was a love affair with the great theologian's writings. Yet, to be a student of Ratzinger's is to be a student of the last nearly 2,000 years of Catholic scholarship and beyond for to appreciate what the Pope is drawing from Augustine, Bonaventure, and Aquinas requires some understanding of the great pagan philosophers.
Although, as adept he was in being able to articulate in the clearest and most meaningful way possible the most complex beauties of sacred Scripture, it was Christ Jesus Himself who is always at the center of Ratzinger's approach to theology. He found it his duty, as the head of the universal Church, to highlight for us the beauty of the written word of God, so that we too might encounter Christ Jesus where he always had. The great summary of Pope Benedict's life of discovering Jesus in the Gospels was articulated by him in his three-book series on Jesus of Nazareth. These books are the culmination of decades of writing and teaching and lecturing on what he found to be the most important thing. His list aspiration was to repeatedly challenge us as his pupils to grow closer to the Lord by drawing deeper and deeper into the mystery of God who became man for our sake.
From Priest to Pope, Ratzinger to Benedict XVI's: Those of us who require a healthy diet of solid foods were quite spoiled with the variety and beauty and depth of his theological buffet. In fact, from Pope John Paul II to Benedict XVI we, perhaps, forgot how spoiled we were until our new Holy Father Pope Francis put us on a new diet of milk.
Now, before some of you go and get all defensive, I'm not trashing the Pope and I'm not saying he's not an intellectual. All I've said up to this point is that he put us on a diet of milk, rather than solid foods, and I'm drawing that phrase from St. Paul's first letter to the Corinthians (3:2) merely to offer dual compliments to contrasting evangelical approaches.
Now, the more I listen to Pope Francis the more I agree with him. Perhaps we have become fat cats. Even though some of us do require a theological diet of steak and potatoes, we are not required to feed others our same diet. Simply what Pope Francis seems to be saying is that people need to be met precisely where they are in life, and the places where we need to meet people the most right now are in places where all they need is milk. Further insight into the Francis milk diet can be found in a comment he made to the Bishops of Brazil at World Youth Day on July 27, 2013.
"At times we lose people because they don't understand what we are saying, because we have forgotten the language of simplicity and import an intellectualism foreign to our people. Without the grammar of simplicity, the Church loses the very conditions which make it possible "to fish" for God in the deep waters of his Mystery." (Read Full Text Here)
Drawing back into the contrasts of Papal theological diets, if you would engage in a refresher by reading just a few of Pope Benedict's general audience lectures and then read just a few of Pope Francis' general audience lectures you might notice something immediately pops out in regards to how each Pope personally encounters Christ Jesus, and how they both desire for us to encounter Him in the same manner as them. For example, Benedict opens each lecture up with a description of the forthcoming work and proceeds from there to take up deeper and deeper into the rich analysis – an ascending spiral staircase – rich with painted mosaics on the wall – that would finally conclude with simple truth about the Christian faith; usually about one of the three Cardinal virtues. In contrast, Pope Francis opens each lecture up with a very brief description of the forthcoming work and then immediately proceeds from there to offer clear analysis of how we can apply the teachings of the Gospels directly to our call to take Christ Jesus to the people who need Him.
Whereas Benedict sought to challenge us to grow closer to Christ through a deeper encounter of Him in the Gospels, Francis is challenging us to grow closer to the Lord through a deeper and more meaningful encounter with Him in the needs of our neighbor. Benedict believes that it is the meat of the sacred Scriptures that the Holy Spirit uses to enlighten and transform us into who God has called us to be. Yet, for Francis, it is responding to the mission of service that the Holy Spirit uses to enlighten the world through us who are being transformed.
I am greatly oversimplifying many concepts and analyses due to space, but the focal point of the observation here boils down to a theoretical question. How beautiful would it be if all of us fat cats left our libraries and starting feeding the world milk? Don't worry about what you'll eat! We have two thousand years of steak to recycle.