The End of the Papal Cult: What Pope Francis is Teaching Faithful Catholics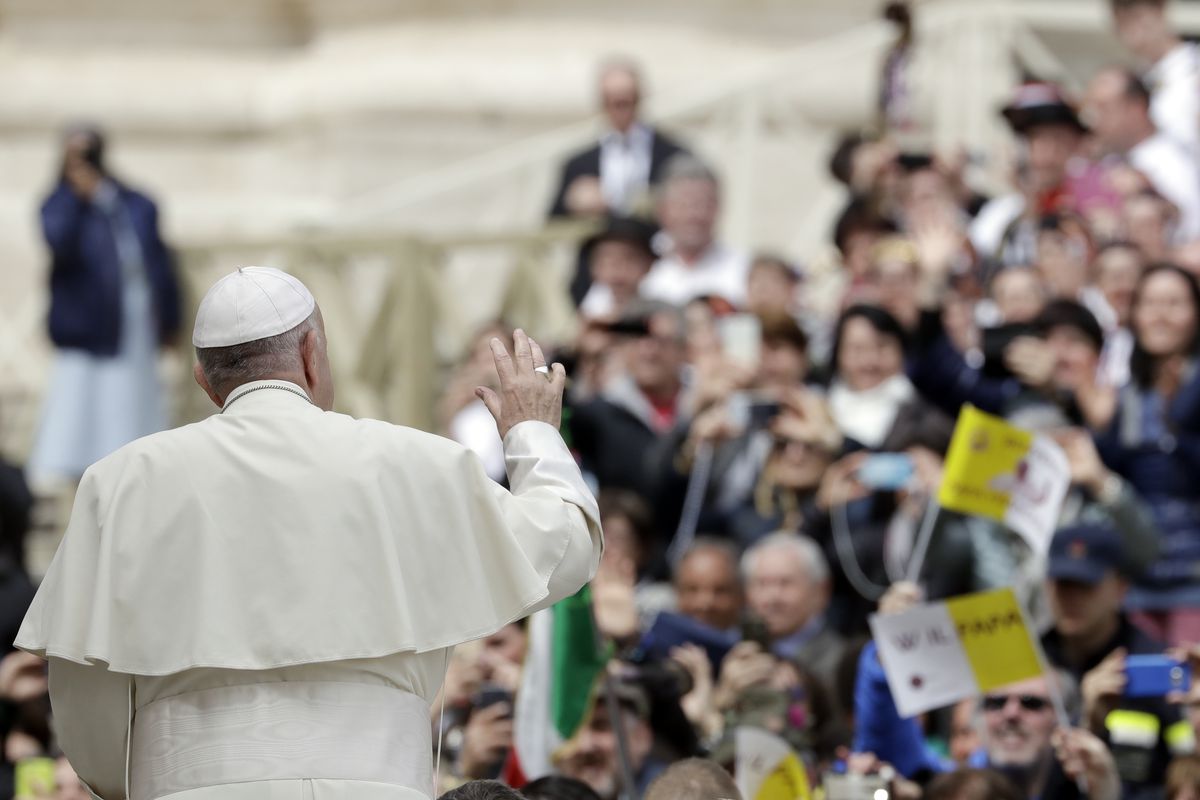 Back in July (2013) Archbishop Charles Chaput of Philadelphia was responsible for more than a few headlines in the Catholic blogosphere, when he mentioned in an interview in Rio de Janeiro during World Youth Day that the right-wing of the Catholic Church was "generally not happy" about Pope Francis' election. "He'll have to care for them, too, so it will be interesting to see how all this works out in the long run."
It probably goes without saying that Chaput was including himself in that number of pick your descriptor here [right-wing/conservative/faithful/natural/non-Orthodox orthodox] Catholics who were not happy about the first few months of Pope Francis' papacy, and needed to be taken care of, and there is nothing wrong about that. I have deep fondness for Archbishop Chaput and his approach toward the public and interior expression of our faith. Yet, I have to disagree with him here.
It is becoming very clear to us all that Pope Francis is a 'back to basics' type of Pope. As I discussed in my article The New Papal Diet – From Benedict Steak to Francis Milk obviously that is what the Holy Spirit believes that the universal Church needs most at this moment, and as time goes on I think we will all be able to see more of the picture that the Spirit of God is painting with the hands of Francis. Indeed, within that painting is the reformation that our new Pope is inspiring within the minds of (right-wing/conservative/faithful/natural/non-Orthodox orthodox) Catholics.
I noticed this reformation in myself the other day when someone on my Facebook wall was talking about how we need to love homosexuals (duh), by prefacing it with "as Pope Francis said". In response to him, I said, "Regardless of what Pope Francis said, what the Church teaches is that [insert the Church's teaching on homosexuality from the Catechism here]." I couldn't believe what I had just typed. I never would have said such a thing during the Papacy Benedict XVI. Even though I converted to the faith in 2006, from what I read of Pope John Paul II, I could not imagine I would have said such a thing during his tenure either. What happened to me I wondered, and then I realized it … I … I am no longer a member of the Papist Cult. I … I … I'm just a Catholic.
There, I said it! It was neither fierce or extravagant, but I had come out of the closet finally nonetheless.
I believe that it is absolutely true, that, rather than wait to see if Pope Francis will validate and affirm us as Popes in the past have, let us embrace what he is teaching. What our Pope is teaching (right-wing/conservative/faithful/natural/non-Orthodox orthodox) Catholics is that our faith is not about who the Bishop of Rome is, that our faith is not grounded in who sits behind the bulletproof glass of the popemobile, that it is okay if we don't look forward to the general audience speeches anymore, that Catholicism isn't a personality cult. Pope Francis is teaching us (right-wing/conservative/faithful/natural/non-Orthodox orthodox) Catholics that we don't need a champion in Rome to front-load our causes, that it's okay to put on our big-boy pants and big-girl dresses and bring awareness to our agenda ourselves, even as we tweak our message in union with his 'back to basics' approach to our Lord's teachings.
Yes, we are waking up to realize that we have been spoiled for a long time. No longer can we ride on the coattails of the Pope, or hide behind his words. We have been set free from the Papist Cult. In contrast, the (left-wing/liberal/borderline-heretical/non-Orthodox non-orthodox) Catholics haven't had a champion in Rome for so long that they are grasping at imitation straws to make Pope Francis their own, just as they have tried to claim Vatican II as their personal license to reinterpret the articulation of the faith.
Therefore, let us not wait and see if we still have a table in the Papist Cult, but, rather, let us embrace this moment to be the laity that Vatican II has called us to be.
For we must all "practice the truth in love, and so grow up in all things in Him who is head, Christ. For from Him the whole body, being closely joined and knit together through every joint of the system, according to the functioning in due measure of each single part, derives its increase to the building up of itself in love" (Lumen Gentium §30).