Italian and French Commentary on Francis, the Pope of Non-Judgment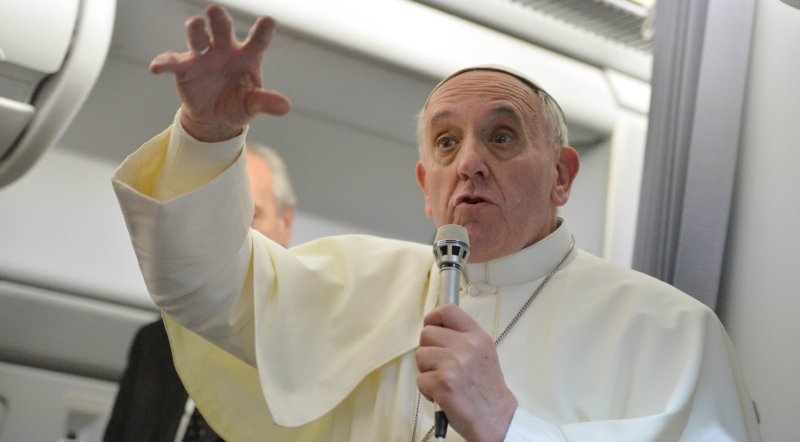 On June 30, 2014, I published an article entitled 'Pope Francis Keeps Missing the Dichotomy of Judgement', which met the disapproval of the 'Don't Criticize Pope Francis Police', to the degree that paragraphs of it were edited at Catholic Stand where it was originally published. As that would never do for me, I brought it back over here to my own website.
I was even accused by a good Catholic of believing that the Pope is a heretic. Now anyone who follows my Facebook page where I often publish memes of Pope Francis' pro-life and pro-marriage quotes or have read my articles 'Will we Survive the Reformation of Francis?' and 'Will we Survive the Reformation of Francis? – Part II', knows well that I love Pope Francis, but I disagree with some things he says, that I am FREE to disagree with him about. I don't disagree with him about things that I am NOT FREE to disagree with him about.
Nevertheless, over the past few days, I've taken notice of some international interest in my 'Dichotomy of Judgement' article. I don't know if this 'Don't Criticize Pope Francis Police' is an American phenomenon or not, but the translated articles below offer some color of what some Italians and French are thinking about Pope Francis' non-judgmental theology.
– Benoit et moi, June 27, 2014 – Mario Palmaro
About the famous formula "who am I to judge?" And a recent homily at St. Martha (02/07/2014)
Mario Palmaro, on the eve of his death on January 9, wrote to the Director of Bussola, Riccardo Cascioli: Given this historical little phrase in the mouth of a pope – "Who am I to judge" – of course , you can write articles wagons correction and repair, thing tireless normalistes troops have made ​​and make for months to explain that all is well madame. But you and I know very well – and anyone who knows the mechanisms of communication know that the "Who am I to judge" is a tombstone on political and legal struggle in the field of recognition of gay rights . If we were talking about rugby, I would say that this little phrase of Pope Francis has earned a few seconds more meters for the gay lobby, which for decades all the work of the homosexual movement worldwide. ( benoit- et-moi.fr/2014-I/actualites/ce-qui-suis-je-pour-juger.html )
*** Today, Marie-Christine sends me a blog post "Italian Campaign" by Philippe . Ridet, the envoy of the World in Rome Title: THE INFLUENCE OF FRANCESCA AND ON SILVIO FRANCESCO . Francesca is – tells us the journalist, who apparently informed by the tabloids – "the bride of the . 'former Cavaliere " Francesco is obviously the Pope. We appreciate the finesse of the merger, which puts the media popularity of the Pope. could also tell the journalist: It's easy to take a man to land (Berlusconi), and it is not very nice. This also would raise the issue recursive (in the sense: that is called self-)? "who are we to judge" Philippe Ridet wrote: By declaring "that am I to judge? "Pope Francis (Francesco) allowed the Italian right to consider the issue of gay rights and homosexuality in general, other than in terms of a threat to the family. we do not tell him, unfortunately. Chance, I had just read this article by Teresa Anglophone site "Catholic4life." Even without knowing who is the author (a young American Catholic blogger) the text remarquablemt argued. He returns to the famous phrase of the Pope on the plane back from Rio, to find that in one of his recent sermons at St. Martha, to 23 June, François persists and signs (Sandro Magister spoke in a recent post on his blog in Italian, translated by me here: benoit-et-moi.fr/2014-I/actualites/les-jugements-du-pape )
– L'Espresso, June 25, 2014 – Sandro Magister
In less than a couple of days before Pope Francis has issued a terrible judgment of conviction that has conquered the front pages of all the newspapers, and then devoted his entire homily morning in Santa Marta to say that you should never judge and condemn but only get defenders and intercessors for others.
The judgment of conviction has issued Saturday, June 21 against the mobsters of the 'Ndrangheta in Calabria. With these precise words:
"When you do not worship God, the Lord, we become worshipers of evil, as are those who live in the underworld of violence and … The 'Ndrangheta is this: worship of evil and contempt for the common good. This evil must be fought, it goes away! We must say no! .. Those who follow this path in their life of evil, as are the mafia, they are not in communion with God, are excommunicated. "
The chronicles have recorded at this point the general applause of two hundred thousand present. Followed by the even more universal applause of the media.
But it turns out that an equally widespread consensus smiles to Pope Francis also whenever he urges us not to pass judgment, since that memorable "Who am I to judge?" Which is perhaps the joke far more universally cited and praised his pontificate .
The puzzle lies precisely here. Francis is the pope who judges, sentencing, carry out, condemnation, promote, remove it. But at the same time constantly preaches that one should never judge or accuse or condemn.
Who judges "always wrong," he said in his homily on June 23 in Santa Marta. It is wrong, he said, "because it takes the place of God, who is the only judge." He claims "the power of judging everything: people, life, everything." And "with the ability to judge" believed to have "the ability to condemn."
With the excommunication of the Mafia, two days before, the music was quite different. Galantino Nuncio, Bishop of Cassano all'Jonio beloved by Francis and made him secretary of the CEI, so has translated the words of the pope: "Excommunication means that the mafia is precluded from life in the Church. They chose a bad way of life. And when this happens you are out of communion. You can not receive the sacraments, to be the godfather, join the committee of the patron, nothing. It is your community. It does not matter that you keep the image of the Virgin Mary or a shrine or tourist traps where you hide in the Bible: it does not mean anything. " Others who do not judge! With a warning because if the mob in question is hiding "in the tourist traps" is a sign that is in hiding and has already been found guilty by justice on earth, and if it is a clean record is not so easy for the Church to condemn her in the external forum.
But it is even less easy to reconcile the condemnations of the pope to the mafia, to "corrupt" and all others who fall under his judgment day with his ceaseless exhortations not to judge. All the more striking because these exhortations are from a successor of Peter, to whom were given the keys to bind and loose on earth what is bound and loosed in heaven.
Actually, in his homily on June 23 in Santa Marta Francis Pope also said that "God is the only one who judges and those to whom God gives the power to do it." But did not specify who they are. The enigma continues.
– Le Monde.fr, July 1, 2014 – Philippe Ridet
With time, everything goes … and everything happens. Silvio Berlusconi, who has all his life multiplied sexist and homophobic, assured that "better to watch beautiful women than to be gay", participated in the demonstration on 12 May 2007 called "family day" to protest against the project Prodi government to create a kind of PACS Italian who has never been possible, says now that the battle "civil rights" for gay couples "should be one of all." "As a liberal, he has said, Monday, June 30, I think a vast and profound confrontation will achieve a reasonable goal of justice and civilization."
Silvio he took a hot shot? Four hours a week to support Alzheimer's patients in a hospital on the outskirts of Milan, they already have it open mind about the suffering in the world? In fact, two people were right approach hitherto very conservative issue.
Stating, "Who am I to judge?" Pope Francis (Francesco) allowed the Italian right to think the issue of gay rights and homosexuality in general, other than in terms of a threat for the family. But the bride of the former Cavaliere, Francesca, is also important in the position of his companion. "Christ has she philosophized it two weeks ago in an interview with Corriere del Mezzogiorno, We have not taught the difference between gay and straight. When will we get closer to European standards on the issue of civil rights take advantage? because the pope is liberal. "
One can of course question the sincerity of this change. Why so late? Why not be engaged when Berlusconi was in power and the head of a strong party? The answer is simple: ally conservative and Catholic forces, the former chairman of the board has done everything to comply with the requirements and prohibitions of the Italian Church and Vatican he was trying to curry favor as and As his personal conduct away the virtues they advocated.
"Tidy cars" away for long Parliament following his conviction for tax fraud trial in Milan call for minor prostitution and abuse of power, perhaps having mourned a discharge, the Cayman relegated to the inside pages of newspapers, may give way to think for himself and seek to find some media visibility. Papa Francesco showed him the way; Francesca accompanies and keeps the eye …