Pope Francis vs. Psalm 22: Did Jesus Commit Blasphemy?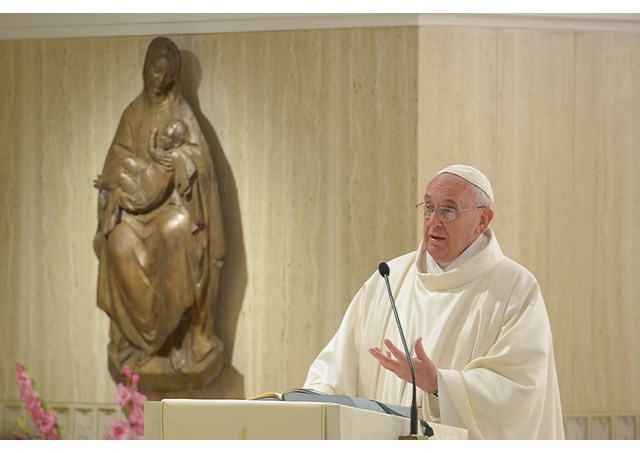 From his Tuesday (09/30/2014) Mass at Casa Santa Marta, Pope Francis, reflecting on the First Reading of the day, in which Job curses the day he was born, noted that Job's prayer at first appears to us like a curse. Pope Francis recalled how Job was "put to the test", how he "lost his entire family, everything he possessed", how he lost his health and "his body had become a plague, a disgusting plague". The Pope said at that moment "he had lost all patience and he says these things. They are ugly! But he was always accustomed to speak the truth and this is the truth that he feels at that moment". Pope Francis recalled how even Jeremiah, "uses almost the same words: 'Cursed be the day I was born!'", and then he asked: "But is this man blaspheming? This is my question: Is this man who is so very alone, blaspheming?". He continues:
Is it blasphemy when Jesus complains – 'Father, why have You forsaken me'? This is the mystery. I have often listened to people who are experiencing difficult and painful situations, who have lost a great deal or feel lonely and abandoned and they come to complain and ask these questions: Why? Why? They rebel against God. And I say, 'Continue to pray just like this, because this is a prayer'. It was a prayer when Jesus said to his father: 'Why have You forsaken me!'"

[. . .]

Our life is too easy, our complaints are overdramatized. Faced with the complaints of so many people, of so many brothers and sisters who are in the dark, who have almost lost all memory, almost lost all hope – who are experiencing this exile from themselves, who are exiled, even from themselves – nothing! Jesus walked this path: from sunset on the Mount of Olives to the last word from the Cross: "Father, why have you forsaken me!"
Did Jesus Commit Blasphemy?
Pope Francis, S.J. has a tendency to ask the question without providing the answer. It's an oddly incomplete rhetorical tool that he seems to love, and he uses it again in this homily. He offers that Jesus prayed when He cries out in the question, "Father, why have you forsaken me?", but Francis never clearly or pointedly answers his question about blasphemy or the emerging question as to whether Jesus lost hope like Job and Jeremiah.
If you are the leader of all Christians on earth; the Vicar of Christ, you can't just leave questions like that out there and casually move on in your homily as if you never raised them. Such a clear question demands a clear answer. There is no room for cloudy theology here. I completely understand that the Pope is more of a pastor than a theologian; that he, perhaps, vomits when he sees the word 'systematic' precede the word 'theology'. Nevertheless, let's go ahead and answer his questions.
All of the Gospel narratives record Jesus offering a final statement before He died on the Cross. John 19:30 records that "When Jesus had taken the wine, he said, "It is finished." Luke says, 23:46 says, "Jesus cried out in a loud voice, "Father, into your hand I commend my spirit." Matthew 27:46 and Mark 15:34 are the only Gospels that tell us that at "about three o'clock Jesus cried out in a loud voice, "Eli, Eli, lema sabachthani?" which means, "My God, my God, why have you forsaken me?"
"They stare at me and gloat; they divide my garments among them; for my clothing they cast lots." Pope Francis draws Matthew's and Mark's accounts into his homily to stir his salient point about how we ought to prepare ourselves for darkness and exile in our lives. He says that we should, "Pray, pray as the Church prays, pray with the Church for so many brothers and sisters who suffer exile from themselves, who are in darkness and suffering, without hope at hand."
What Pope Francis is talking about is the emotion of despair; the feeling that there is no hope to be found in the circumstance in which I am found. Despair is the complete loss or absence of hope. Having fallen into despair myself; to the point that I tried to commit suicide, and having deeply and emotionally felt that I was abandoned by my wife while I was in prison, I truly appreciate the point that the Pope arrives at, but there are still the lingering questions, right? Did Jesus commit blasphemy against His Father? Was Jesus like Job and Jeremiah? Did Jesus lose hope? Blasphemy cannot be a mystery. Jesus Christ losing hope cannot be a mystery.
To answer the question: While we are on safe ground theologically as Christians if we want to believe that Jesus felt dereliction, we cannot believe that God lost hope; that God despaired. Of course, the better way to interpret Matthew's and Mark's final words of Christ is to read them in the context of Jesus simply doing with His last breath what He always did to His accusers. That is, pointing them the Scriptures to show them exactly who they are and who He truly is. In the instant case, He proclaims the first stanza of Psalms 22, which beautifully foretells of His passion and coming glory:
Psalms 22
"My God, my God, why have you abandoned me? Why so far from my call for help, from my cries of anguish?
My God, I call by day, but you do not answer; by night, but I have no relief. Yet you are enthroned as the Holy One; you are the glory of Israel.
In you our fathers trusted; they trusted and you rescued them. To you they cried out and they escaped; in you they trusted and were not disappointed. But I am a worm, not a man, scorned by men, despised by the people.
All who see me mock me; they curl their lips and jeer; they shake their heads at me: "He relied on the LORD—let him deliver him; if he loves him, let him rescue him." For you drew me forth from the womb, made me safe at my mother's breasts. Upon you I was thrust from the womb; since my mother bore me you are my God. Do not stay far from me, for trouble is near, and there is no one to help.
Many bulls surround me; fierce bulls of Bashan encircle me. They open their mouths against me, lions that rend and roar.
Like water my life drains away; all my bones are disjointed. My heart has become like wax, it melts away within me. As dry as a potsherd is my throat; my tongue cleaves to my palate; you lay me in the dust of death.
Dogs surround me; a pack of evildoers closes in on me. They have pierced my hands and my feet. I can count all my bones. They stare at me and gloat; they divide my garments among them; for my clothing they cast lots. But you, LORD, do not stay far off; my strength, come quickly to help me. Deliver my soul from the sword, my life from the grip of the dog. Save me from the lion's mouth, my poor life from the horns of wild bulls. Then I will proclaim your name to my brethren; in the assembly I will praise you:
"You who fear the LORD, give praise! All descendants of Jacob, give honor; show reverence, all descendants of Israel! For he has not spurned or disdained the misery of this poor wretch, Did not turn away from me, but heard me when I cried out. I will offer praise in the great assembly; my vows I will fulfill before those who fear him. The poor will eat their fill; those who seek the LORD will offer praise. May your hearts enjoy life forever!"
All the ends of the earth will remember and turn to the LORD; All the families of nations will bow low before him. For kingship belongs to the LORD, the ruler over the nations. All who sleep in the earth will bow low before God; All who have gone down into the dust will kneel in homage.
And I will live for the LORD; my descendants will serve you. The generation to come will be told of the Lord, that they may proclaim to a people yet unborn the deliverance you have brought."