Luke 1:26-38 – Gabriel's Visit to Mary (The Annunciation)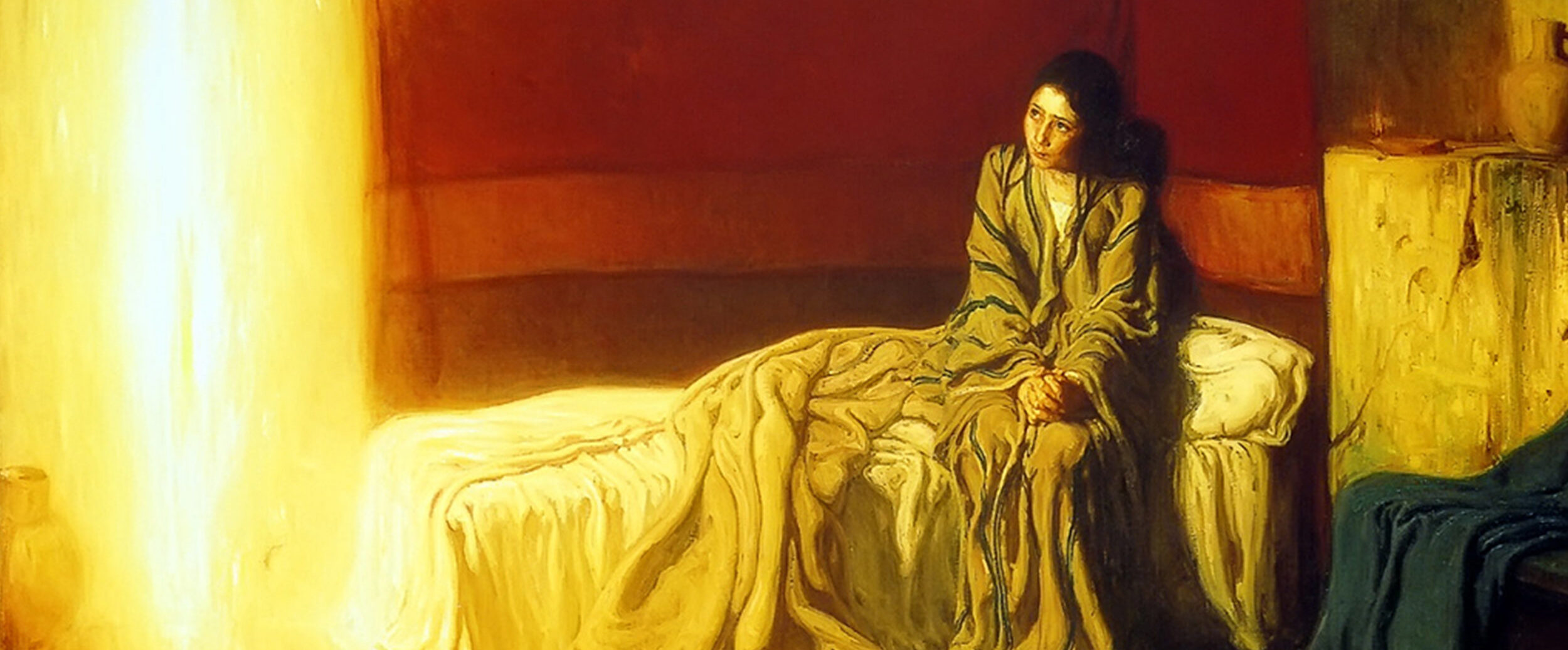 Angels are facilitators of transformational events. Whenever a human being has claimed to have encountered an angel, their related story will always and inevitably shed light on how the trajectory of their life changed by virtue of that encounter. Whether it was Mary's Visitation with the Archangel Gabriel, or Muhammad's visit from an angel named Gabriel, or a man being saved from a car crash, or Joseph Smith's visit from an angel named Moroni; whenever angels – either holy or demonic – visit man, their life is changed forever because of it.
Luke 1:26-38 provides us with another opportunity to revisit The Annunciation of the Lord and to discover what it is that Luke thought was important to communicate to the future generations of Christians.
The angel Gabriel was sent from God to a town of Galilee called Nazareth, to a virgin betrothed to a man named Joseph, of the house of David, and the virgin's name was Mary. And coming to her, he said, "Hail, full of grace! The Lord is with you." But she was greatly troubled at what was said and pondered what sort of greeting this might be. Then the angel said to her, "Do not be afraid, Mary, for you have found favor with God.
"Behold, you will conceive in your womb and bear a son, and you shall name him Jesus. He will be great and will be called Son of the Most High, and the Lord God will give him the throne of David his father, and he will rule over the house of Jacob forever, and of his kingdom there will be no end."

But Mary said to the angel, "How can this be, since I have no relations with a man?" And the angel said to her in reply, "The Holy Spirit will come upon you, and the power of the Most High will overshadow you. Therefore the child to be born will be called holy, the Son of God. And behold, Elizabeth, your relative, has also conceived a son in her old age, and this is the sixth month for her who was called barren; for nothing will be impossible for God."

Mary said, "Behold, I am the handmaid of the Lord. May it be done to me according to your word." Then the angel departed from her.
As John in his Gospel intends to introduce Christ Jesus the bringer of the New Creation through a play on Genesis' account of creation, Luke intends to introduce Christ the King through plays on Old Testament Kings. Yet, to set up Christ as the King, he must first establish the primacy of Mary. We saw this in the latter verses of the first chapter of Luke when he goes to some length to demonstrate how Mary is the Ark of the New Covenant. Because Mary is the Ark, it, therefore, answers why Joseph could not touch her, why she is the perpetual Virgin, why she was assumed into Heaven, and why she is co-mediatrix. Yet, being that Luke understands the importance of a King having a Queen, his first task is to establish the Queenship of Mary.
Luke's Loaded Introduction to the Annunciation
We first encountered the angel Gabriel in Daniel 8:15–26, 9:21–27 when he (i.e. a "manlike figure") twice provides the prophet with understanding; first, according to this his vision, and second, according to his prayer. As we would expect, this encounter with an angel was a transformational event for Daniel. Gabriel's visit with Daniel begins with an audible command from God, who says, "Gabriel, explain the vision to this man." Gabriel's 'end-time' explanation of the prophet's vision is somewhat a play on Daniel's name (דָּנִיֵּאל – Daniyyel), which means 'Judgment of God', or 'Judged by God'. Daniel was 'beloved' by God (Cf. Dan. 9:23).
If a Jewish person thought that Gabriel's visit to Daniel was transformational and provided a level of understanding that Daniel still couldn't understand, what Luke is saying is 'Wait until you hear about the time that Gabriel visited Mary'.
In every one of the older civilizations, a name just isn't a name. Rather, a name means something. There is no place in Scripture when this reality is on better display than in Luke's 'Introduction of the Annunciation' (Cf. vv. 26-30). The first thing we hear is that God sent His angel of understanding, Gabriel (גַּבְרִיאֵל, meaning 'God is my strength') to a town called Naṣrath (נָצְרַת, meaning 'twig/branch sprout'). There he would find a virgin, whose name is Miryam (מִרְיָם, meaning 'wished for a child'). She was betrothed to a man named Yoseph (יוֹסֵף, meaning add/give/increase) of the house of Daviyd (דוד, meaning 'beloved').
This meaningful introduction points to a prophecy that we read in the book of Jeremiah 33:15, "In those days, in that time, I will raise up for David a just branch sprout; he shall do what is right and just in the land." That God sent His angel, whose name means 'God is my strength', to the Virgin upon whom the Holy Spirit would come upon points us to the traits of the Holy Spirit found in Proverbs 8:14, "Mine are counsel and advice; Mine is strength; I am understanding." This introduction also tells us that God fulfills the meaning of things. In the instant case, the incarnation of Christ Jesus is the fulfillment of the meaning of Mary's and Joseph's names.
Mary is Given a New Name or Title
God not only gives people new names (e.g. Abram to Abraham – Gen. 17:5, Sarai to Sarah – Gen. 17:15, and Simon to Kepah – Jn. 1:42), but angels have also given people new names. After Jacob wrestled with the Angel of the Lord all night he was given a new name according to this life – Yisrael, (יִשְׂרָאֵל, meaning 'one who prevails with God') (Cf. Gen. 32:24-28). It can also be argued that the angel Gabriel gave Mary a new name according to her life.
"And coming to her, he said, "Hail, full of grace! The Lord is with you." It is typical and proper to greet a person according to their name, but Gabriel doesn't do that. He calls her 'Full of Grace'. Yet, being that 'Full of Grace' follows the salute/address/greeting of 'Hail', Gabriel might have only given Mary a new title, rather than a new name. Nevertheless, this was a transformational welcome that he spoke to the virgin that greatly troubled her. Gabriel then responds to Mary's clear distress by telling her, "Do not be afraid, Mary, for you have found favor with God."
Mary is Given Unsolicited Favor by God
Favor is something that is given to you by others. It is a gratuitous and voluntary preference that they give you over others. Favor is not something that is rightly presupposed or demanded. It is more close to being the fruit of humility than it is being the fruit of ambition. Scripture has a great deal to say about how favor is given and how favor is lost; such as:
Deuteronomy 24:1:
"When a man takes a wife and marries her, and it happens that she finds no favor in his eyes because he has found some indecency in her, and he writes her a certificate of divorce and puts it in her hand and sends her out from his house."
Ruth 2:10:
"Then she fell on her face, bowing to the ground and said to him, "Why have I found favor in your sight that you should take notice of me, since I am a foreigner?"
1 Samuel 1:18:
"She said, "Let your maidservant find favor in your sight." So the woman went her way and ate, and her face was no longer sad."
Perhaps the case that Luke is making here for the Queenship of Mary, by recalling how Gabriel said she had found favor with God, is by pointing us to another Queen who found favor. According to Esther 2:17, Queen Esther, whose name means 'star', was a 'virgin' who was favored over all others by her King:
"The king loved Esther more than all the women, and she found favor and kindness with him more than all the virgins, so that he set the royal crown on her head and made her queen instead of Vashti."
Mary Acts in Faith, Love and Obedience Before Understanding
Whenever Daniel received a vision from God he became troubled and he grieved and mourned. When Zechariah heard from the angel Gabriel about Elizabeth's prayer for a child being answered he doubted (Cf. Lk. 1:18). When Mary hears Gabriel's news, she rejoices and assents, "Behold, I am the handmaid of the Lord. May it be done to me according to your word." It's not that Mary didn't desire the same understanding of things that Daniel and Zechariah sought. Clearly, Mary reflected upon these amazing things (Cf. Lk. 2:19), but her lack of understanding them did not impede her from acting upon them.
Indeed, the most powerful lesson that Ss. Mary and Joseph have to teach us is that we must always act upon the word of God, even if we don't always immediately understand it. The reason why we must do this is that the word of God is true, even when our human ability to understand it is oftentimes impaired. It may very well be the case that God will send us help to understand His word, as He did with Daniel, but we can't always rely on that either. We must act upon the word of God in faith and love at all times.
_______________________________________________