Amoris Laetitia (The Joy of Love): Progressivism 101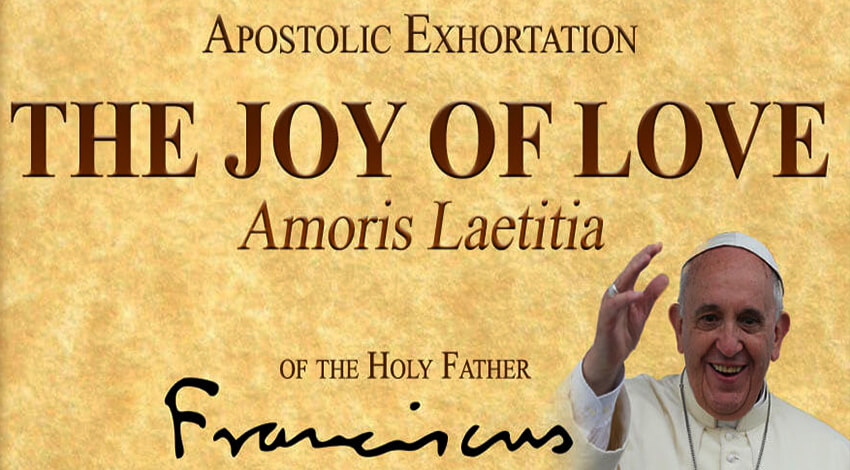 On April 8, 2016, Pope Francis issued his long-awaited Apostolic Exhortation in response to the Synod on the Family, which took place at the Vatican from 2014 – 15. I wrote about that Synod in 'Is the Synodal Church a Gnostic Church?' and 'Consequences of the Failed Synod: The Reformation of Pope Francis – Part IV'.
The Holy Father's 264 page, 9 chapter Post-Synodal Apostolic Exhortation has been named 'Amoris Laetitia', which translates from Latin into English, 'The Joy of Love', could just as well have been called 'Liberalium Doctrinarum Fundamenta in Progression Vocantur' (The Basics of Liberal Ideology Called Progress). While there were a lot of things about marriage and family I absolutely loved in the document, it was Francis' ongoing push for a non-universal Church therein that I found to be extremely troubling.
The idea of progressivism is to improve society by moving it away from what it has traditionally believed. On the surface this seems like a suitable notion; even one that Christ Jesus preached to a degree, but the problem with Progressivism, as I explained in this video, is that it is intrinsically unable to perform what it proposes because it rejects standards. Unless you have an established standard, you cannot be certain whether you are progressing or evolving. In fact, it would be more than likely that without a standard you are going to go backward or de-evolve. Progress presupposes that there is a standard, but this is what Progressivism as an ideology lacks.
From Scripture to the most recent Tradition, God and the Catholic Church has always been in favor of giving us clear standards and commands and have never been interested in leaving us without firm guidance. Even for numerous councils, until we got to Vatican II in the 1960s, the Church and the Pope formally would declare that rejection of formal teaching was an anathema. For, how could we ever be a set-apart people and be able to find the narrow way unless we are called to holiness and be pointed to universal truth?
The Papacy of Francis marks a historical notation in the life of the Catholic Church in the Petrine Ministries departure from universal standards, which we haven't seen on this level since that period of time between the Fall of Constantinople and the Council of Trent. I'm open to dialogue about whether Pope Francis' easing of universal standards will actually infect the whole body and make all of Catholicism like the Catholic Church in Germany (dead, immoral, and a den of Satan), but I am completely certain that should this easing of universal standards become the life of the whole Church, that it will no longer be the Catholic Church of the Apostles – it would something other than that; perhaps FrancisChurch.
So, what are some of these statements in 'Liberalium Doctrinarum Fundamenta in Progression Vocantur' that pivots the direction of the Church away from true Catholicism (i.e. Universality in Truth)? Here are four of them:
Para. 3 – "Since "time is greater than space", I would make it clear that not all discussions of doctrinal, moral or pastoral issues need to be settled by interventions of the magisterium. Unity of teaching and practice is certainly necessary in the Church, but this does not preclude various ways of interpreting some aspects of that teaching or drawing certain consequences from it. . . . Each country or region, moreover, can seek solutions better suited to its culture and sensitive to its traditions and local needs. For "cultures are in fact quite diverse and every general principle… needs to be inculturated, if it is to be respected and applied." [COMMENT – Of course this is what happened after Vatican II. People interpreted that you can have Clown Masses, and even that is still going on today. The Catholic Church is local, but truth is universal. Whatever is true must be universal, because God who calls Himself THE truth, established a universal Church which He calls His Body. How can His Body not move in His nature? Scripture calls the Apostolic Church is the Pillar of Truth (1 Tim. 3:15); therefore, it must see itself as the source of truth and guide others to it.]

Para. 29 – "There are a number of legitimate ways to structure programmes of marriage preparation, and each local Church will discern how best to provide a suitable formation without distancing young people from the sacrament. They do not need to be taught the entire Catechism or overwhelmed with too much information." [COMMENT – Isn't the problem with our Church is that lay Catholics don't have enough information? If Martin Luther had too much information, there wouldn't be a Protestant church today. The idea that we would produce low-information Catholics is below my level of comprehension. Any local Church that adopts this idea will be dead in 75 years.]

Para. 305 "Because of forms of conditioning and mitigating factors, it is possible that in an objective situation of sin – which may not be subjectively culpable, or fully such – a person can be living in God's grace, can love and can also grow in the life of grace and charity, while receiving the Church's help to this end. (FOOTNOTE: In certain cases, this can include the help of the sacraments. Hence, "I want to remind priests that the confessional must not be a torture chamber, but rather an encounter with the Lord's mercy." I would also point out that the Eucharist "is not a prize for the perfect, but a powerful medicine and nourishment for the weak.) . . . Discernment must help to find possible ways of responding to God and growing in the midst of limits. By thinking that everything is black and white, we sometimes close off the way of grace and of growth, and discourage paths of sanctification which give glory to God. [COMMENT – "In certain cases" is always CODE for non-Universality. The administration of the Sacraments should be bound by truth, not subjectivity, because they belong not to man, but to God. Therefore, they should reflect the very nature which the sacraments communicate.]

Para. 308 – "I understand those who prefer a more rigorous pastoral care which leaves no room for confusion. But I sincerely believe that Jesus wants a Church attentive to the goodness which the Holy Spirit sows in the midst of human weakness, a Mother who, while clearly expressing her objective teaching, "always does what good she can, even if in the process, her shoes get soiled by the mud of the street". The Church's pastors, in proposing to the faithful the full ideal of the Gospel and the Church's teaching, must also help them to treat the weak with compassion, avoiding aggravation or unduly harsh or hasty judgments. The Gospel itself tells us not to judge or condemn (cf. Mt 7:1; Lk 6:37) [COMMENT – Yes, I actually do prefer a more rigorous universal pastoral care, which leaves no room for confusion, because God is not a God of confusion, so says Saint Paul (Cf. 1 cor. 14:33). I don't know whether the Holy Spirit sows a tender massage, which is the Pope suggests. Jesus said that the Holy Spirit would guide us towards all truth (not confusion), He would convict the world in regard to sin, righteousness and condemnation (Jn. 14 and 16. As for Pope Francis' cherry-picking on what the Bible says about non-judgement, the Scriptures actually say the opposite – READ: 'What the Bible Actually Says About Judging Others'.]
That being said, I honestly don't think this document will have any substantive impact unless Pope Francis reigns for another seven-plus years or the next Pope is a Progressive like him. The reason why I say that is because if you just look around, you'll see that the dye has already been cast. The places where Catholicism is dying has already embraced progressivism and the places where Catholicism is thriving has rejected progressivism. While the former will take this Apostolic Exhortation and run with it as a license to press their agenda even faster, the latter will throw it in the garbage. We are just at that hour now where sheep and wolves are naked and exposed. Catholicism is no longer Universal.