Social Justice as Taught by the Catholic Mass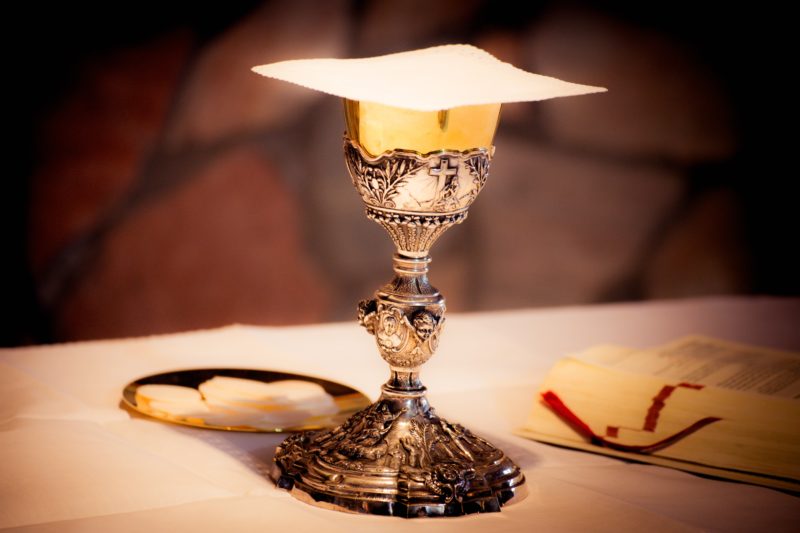 I
f you are a parent or a teacher or anyone who has at any point in time worked very hard to organize your thoughts into a concrete and serious articulation of an important matter, you know what it is like then to have your audience nod in agreement; perhaps even applaud or cry, but not even twenty minutes later demonstrate that what you said has had no impact whatsoever on their life. Then you try again. You think, perhaps there was a better way to say it. Perhaps there was, but your second effort met with the same result. At some point, you figure that it's not you, it's them. They just don't get it. Yet, in the back of your head, you think that you failed at some level in the art of communication.
The center of the Catholic life is the memorial sacrifice; the Catholic Mass, which teaches and gives us all that we need for this earthly pilgrimage. The Mass offers us the sacraments of healing, sanctification, and perseverance. It guides us on how to live a life worthy of our eternal Father; how to use our bodies and speak words in a manner that glorifies His name. The liturgy is our life, but for centuries Catholic theologians have failed to ground their teachings in it. These well-meaning artists of prose have uttered the most beautiful things – written the most profound things, but have simultaneously said nothing because what they said and wrote was not connected to the source of Christian life.
Imagine if Jim Brown, arguably the greatest American football player had been taught the theory of baseball, and then expected to execute his position of running back on game day. Now go to your Catholic library and peruse all of your theology books and tell me how many of the authors grounded their entire books or central theses or arguments in the liturgy. Certainly, you have some great books that offer some incredible insights, but are they nothing more than straw if they aren't connected to the source of your life? Are they nothing more than teaching Jim Brown how to get ready for a baseball game?
There have been many popular movements in recent history that have caught the imagination of Catholics, such as the Theology of the Body, modern American Apologetics, and the New Evangelization. All of which have offered incredible insights, but are simultaneously just mere straw, because they are not grounded in the meaning and mystery of the liturgy. Yet, no widely popular teaching has disconnected Catholics more from what the liturgy has to teach than our theology on Social Justice.
I recall a morning Mass at Saint Clair of Assisi in O'Fallon, Illinois where I used to often attend weekly Mass. For the final announcement before the dismal, a seemingly nice older lady stood at the lectern and invited everyone to gather at the courthouse in the neighboring town to join in with others to show solidarity with families who had crossed the southern border of the United States illegally and were suffering from some very unfortunate consequences of their actions. I stood there wondering how I was supposed to connect that announcement with the liturgy. The visiting priest was about to dismiss us to go forth and share the good news of our risen Lord, but I had just been invited to show solidarity with a political agenda.
What the Liturgy Teaches Us About Social Justice
The one word that lady at the lectern said that did connect with the Catholic Mass is 'solidarity', which is a concept both central to what the Church truly teaches about Sacrament of the Holy Eucharist and about Social Justice. The Fathers of Vatican II said it this way in Gadium et Spes, "The Lord left behind a pledge of this hope and strength for life's journey in that sacrament of faith where natural elements refined by man are gloriously changed into His Body and Blood, providing a meal of brotherly solidarity and a foretaste of the heavenly banquet" (38). Following the council, Pope Saint Paul VI failed to integrate any aspect of the liturgy in his Populorum Progressio, which is today the defining document on the popular expression of social justice. Then, on the twentieth anniversary of Paul VI's encyclical, Pope Saint John Paul II offered a new social justice blueprint in his encyclical Sollicitudo Rei Socialis in which he gave a couple of nods at the liturgy and the Blessed Sacrament, but altogether missed the opportunity to integrate the Mass with social concerns of the Church.
For Catholics, we must always remember that social justice begins with an understanding of the cardinal moral virtue of Justice that calls us to render to all people their due, which is principally the sacrificial love of God. From Genesis to Revelation and throughout our tradition, all that we witness over and over again is God rendering to His creatures their due, and it is only when we are just people (i.e. participating in the justice of God) are we are most like God.
Our participation in rendering to all people the sacrificial love God in the social sphere is what we should know as Social Justice, and how that is expressed is something we learn from the liturgy. It begins with understanding that the incarnation and the Holy Eucharist truly are God's highest expression on earth of rendering to His People their due through solidarity with them. That is because the Holy Eucharist integrates and unites us with Him – it makes us one with the Body of Christ, and, as His creatures, we are due this eternal bond of love and companionship. In fact, this union of with Him is all He desires for us. Yet, the liturgy teaches us that we must be worthy to receive this union that is due to us. For, the Saints have taught that it is harmful to receive the Holy Eucharist unworthily; that is, in a state of mortal sin – including, not discerning that what we are receiving is Christ Himself. This is why the liturgy of the Mass goes through great pains to pray and confess and pray and confess our sins over and over again before we receive Him into our bodies.
Then, at the announcement of the Ite, Missa est – go, you are dismissed, we are being called to give to the social space; that is, the world, the fruit of what we have just received; namely solidarity with Jesus Christ. True social justice occurs when we give to the world the highest due that God has rendered unto us through solidarity with His Son. Social justice is when we are truly participating in God's justice, and there is not a greater justice that we can give the social space than solidarity with Jesus Christ through forgiveness of sins, baptism, and union with His Church.
As a Eucharistic People, we have been consecrated to be an offering and to be sacrificial, but let us not leave the Mass with some intention to give to others some lower form of justice, because not only do they not deserve something less than God, but God does not deserve a People who think they have something greater to offer than Him.