Seeing the Mass through the Heart of Dorothy O'Neill Weimar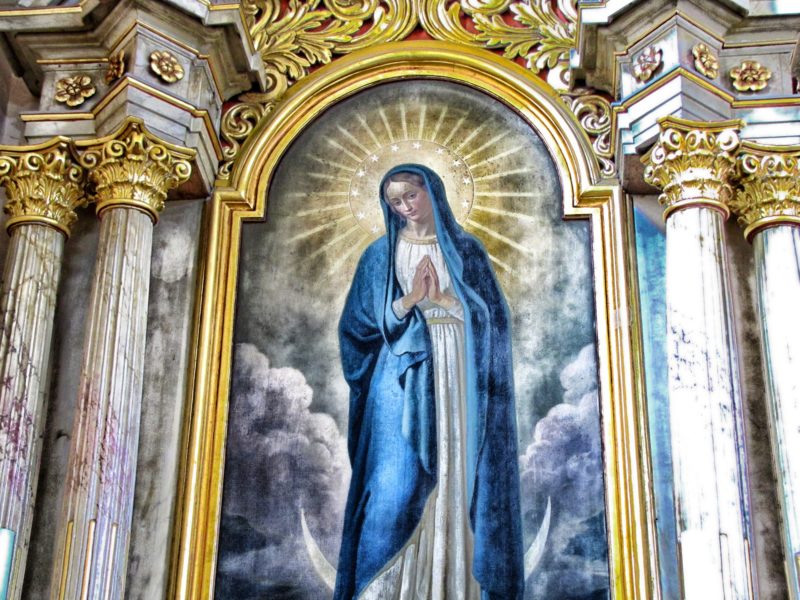 My wife is a foodie. The highlight of her globe-trekking is sitting down at the best restaurant with the best reviews in whatever town she's traveled to and then spending the rest of her trip finding little local eateries and street vendors to amaze her palate. At some point during these adventures, it's inevitable that one of us will say, 'This is the best (fill in the name of the food here) I EVER had!' It's usually me… My dear mother raised my brothers and I on the same rotation meals every week, so I really didn't know my options until I met my wife. She likes to remind me of the fact that when we first started dating I was eating Little Ceasar's Pizza and Taco Bell every day. It's true! She also tells me that I'm 'Food Escalating' whenever I exclaim, 'This is the best (fill in the name of the food here) I EVER had!' I don't think I am.
Neither am I sanctus escalating when I say that I thought I was reading about the life of a saint when I began turning the pages of Father Stanley Smolenski's new booklet called Dorothy O'Neill Weimar: A Star in the School of Mary, Woman of the Eucharist (New Hope Publications). Not only is this a book that every Catholic needs to read, but Dorothy O'Neill Weimar was a laywoman who every Catholic needs to get to know better. I've fallen in love with her and have even begun asking her to pray for me. Okay, perhaps I am sanctus escalating…
It's just that sometimes you encounter a holy person who you can see yourself in, or at least who you know your best self aspires to be like:
[Dorothy] was born in New Haven, Connecticut, on August 23, 1909, the second of four children, to Attorney Daniel and Ida Grimes O'Neill. After graduating from St. Mary's Academy, she attended the Yale School of Fine Arts. She married and though abandoned by her husband within the first few years of marriage, was a devoted mother to two children and remained faithful to her marriage vows . . . Stricken by a massive coronary on November 18, 1974, Dorothy received the sacraments and died on that same day, at 65 years of age, in Norwalk, CT . . . In the eyes of the world, her life was nothing but ordinary. But what people did not know was the extraordinary mystical life she lived in profound union with the mysteries of our faith. Dorothy's was a hidden life of suffering for souls while experience exception revelation. (p. 1)
Dorothy O'Neill Weimar experienced many private revelations from our Lord Jesus Christ and our Blessed Mother Mary, and throughout his book, Father Smolenski, spma does something that is very important – he gives an account of those private revelations and then reconciles each of them to what the Church teaches in that regard and what have been the thoughts and experiences of other saints, such as Saint Faustina and Saint Pope John Paul II. I found it to be reassuring that Dorothy's private revelations were in deep union with what we believe as Catholics and also with the lived experience of the faithful.
For as long as I can remember, going back to my teenage years, I had frequent nightmares of dogs chasing me. I would wake up screaming out of my sleep quite often. This fear of dogs in my dreams gave rise to a fear of dogs in real life. I hated having to walk anywhere because I thought there might be a dog somewhere loose just waiting to chase me. Yet, not long after I received the Sacrament of Confirmation on August 8, 2006, the Feast of Saint Dominic de Guzman, I had a dream that I'll never forget. There were those same two black (sometimes white) dogs that had chased me in my sleep for the past two decades, but now they were sitting there calm on their hind legs just staring at me. It was night and there was a mist about, but under the tree, I could see a man in a black robe with a hood lined in white holding the dogs on a chain. It was over! I would never be chased by those dogs (Saint Dominic's Hounds of the Lord) in my dreams again.
I discerned if I had a call to the Order of Preachers, but like Dorothy who was a Dominican tertiary (third-order), my call was just to four pillars of Dominican spirituality, which are prayer, study (contemplation), community, and ministry. Dorothy was not inclined to study, but in lieu of that work, she made use of the Rosary, which is the tool given us by Saint Dominic from the Virgin to help us contemplate deeply the mysteries of our faith. Our Lady explained the Rosary to Dorothy in this way: "To all who come to me, I will tell the story of Rosary – the story of the Mass – the life, death, and resurrection of Jesus."
I've been giving a series of talks at my parish about my book The Divine Symphony: An Exordium to the Theology of the Mass, and the one thing I have been emphasizing to them is that the Sacrifice Mass gives us everything, teaches us everything, and offers us everything. As Christians, there is nothing we need in our pilgrimage on earth that is not offered through the Mass. So, when I read how Dorothy saw the Mass in this same way, I knew I found my similar heart in her. For Dorothy, all of the mysteries of the Rosary are lived through the Mass and there is an intimate relationship between Jesus' Passover/Eucharist command to "Do this in anameno [i.e. memory/perpetual wait] of me," and the work of the Rosary to perpetually keep the memories of our Lord's life and love in our heart. In a recording from August 6, 1963, Dorothy is heard telling her spiritual director:
I noticed the other night at Rosary, first we heard Our Blessed Mother and She seemed to be telling the story. But then, more and more, it seemed almost as if we were enveloped with the Mass again. It was the sorrowful mysteries and I found out that I was living this. (p. 26)
Later on February 6, 1970, she heard our Lord say to her, "I want the knowledge of the real meaning of the Mass made known now." Jesus hasn't spoken to me in an audible way since 2004 when He told me, "I love you, I am here," while I was in the process of trying to commit suicide, but when I read those words He spoke to Dorothy O'Neill Weimar, I could hear them in my heart as well. That's all I also want – for the real meaning of the Mass to be known now. Dorothy would say that her love for the beauty and mystery of the Mass increased in her daily, and that is because she understood and saw the essence of what it is. By this, her heart grew exponentially in devotion to what and 'who' the liturgy brings.
I've only been a Catholic for a little over a decade now, but one thing I think is true – that you don't find your saint – your saint finds you. I'm glad Dorothy O'Neill Weimar found me.