The Biblical Teaching on Consolations (The Transfiguration)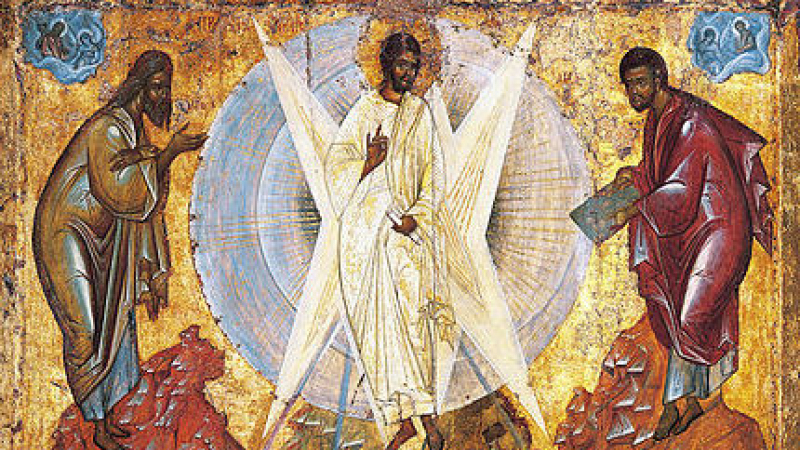 The story of the Transfiguration found in all of the synoptic Gospels (Cf. Mt. 17:1-9, Mk. 9:2-10, Lk 9:28-36) is a perfect example of what consolation is, and St. Peter's response is one of those examples of how we try to unnecessary micromanagement this gift:
"Jesus took Peter, John, and James and went up the mountain to pray.

While he was praying his face changed in appearance and his clothing became dazzling white. And behold, two men were conversing with him, Moses and Elijah, who appeared in glory and spoke of his exodus that he was going to accomplish in Jerusalem.

Peter and his companions had been overcome by sleep, but becoming fully awake, they saw his glory and the two men standing with him. As they were about to part from him, Peter said to Jesus, "Master, it is good that we are here; let us make three tents, one for you, one for Moses, and one for Elijah." But he did not know what he was saying.

While he was still speaking, a cloud came and cast a shadow over them, and they became frightened when they entered the cloud. Then from the cloud came a voice that said, "This is my chosen Son; listen to him." After the voice had spoken, Jesus was found alone. They fell silent and did not at that time tell anyone what they had seen."

Matthew 17:1-3
During seasons such as Lent or during Novenas or at other times of the year when we find ourselves particularly devoted to immersing and drawing our whole self into the Divine Nature, we might have the occasion to experience an encounter with God that is utterly inexplicable to the senses and is difficult, at first, to fully explain to others.
When my daughters were younger and lighter than they are now, I use to do this thing with them where I would throw them up in the air, pull them down between my legs and then launch them back up into the air again. They called it 'exercise', which I couldn't figure out because I was the only one being 'exercised' at that moment. Perhaps they thought that they were doing me a favor – I don't know, but every night they would come to me and ask me to give them the 'exercise', and after I did it to them once they would ask, "Daddy do it again" – over and over until I was physically incapable. Once is never enough for children, is it?
Divine Consolations are voluntary, loving, and gratuitous gifts from God, given to us for a definite purpose – always known by Him and for us to figure out in time. Unfortunately, oftentimes problem that many have with consolations is that they tend to make us feel so good that we can't get enough of them. "Do it again Father!" Some people call consolations 'Mountain Top experiences', and when God gives them to us that is exactly what happens – a part of us desires to stay up there on that mountain forever. Essentially, we desire to sustain, control, manipulate, and micromanage the event.
"Rabbi, it is good that we are here! Let us make three tents: one for you, one for Moses, and one for Elijah." Proof that Peter hadn't taken the time to truly understand and meditate upon what had just happened comes in the next line of text, "He hardly knew what to say, they were so terrified." Juxtaposed to Peter are the other disciples who seem to be the ones who accidentally got the correct response here by saying nothing at all in their terrified silence. Indeed, ultimately, all that we are required to do during a Divine consolation is to receive it and not immediately respond to it.
There are many other things that can be said about Divine consolations, especially about the reasons for which God decides to give them to us in the first place, but I believe that the most essential treatment that needs to be made here concerns how we ought to respond to them. I say that because Divine consolations will come to many us for whatever reason God deigns, but the essential and crucial thing for us to know is how do we respond to them.
In all of sacred Scripture, I find that our Blessed Mother Mary offers us the best example of what we ought to do with Divine Consolations. The first gift of consolation ever recorded in the New Covenant was given from God the Father to the Mother of His only begotten and beloved Son, and what an amazing experience that must have been for Mary when she heard that she would bear in her womb the Son of God. When we examine Mary's three-step response to The Annunciation (Cf. Lk. 1:26-38), we can more clearly read how Simon Peter erred in response to his consolation. First, Mary asked the necessary questions to help her discern God's will, "But Mary said to the angel, "How can this be, since I have no relations with a man?"; second, she received/accepted/acquiesced to God's will, "Mary said, "Behold, I am the handmaid of the Lord. May it be done to me according to your word."; and third, she immediately and continually bore witness about her consolation by traveling a great distance to share the news of her consolation with her kinswoman Elizabeth, and she continues, even until today, to tell us all about her Son and what God has done for her. She sang, "The Mighty One has done great things for me, and holy is his name" (Lk. 1:49). I believe that one of the most beautiful things about consolations from God speaks to one of the reasons why he gives them to us in the first place; that is, divine consolations empower us, more than ever before, to testify about His goodness and to give Him abundant glory.
Succinctly, our Blessed Mother's Three-Step response to her Divine Consolation was:
Discern the meaning of the consolation;
Thank God for the gift; and
Bear witness of the consolation, for His glory.

I can say with a deep certainty that to do anything beyond one of these three things will hinder God's ultimate reason for Him blessing you with that particular consolation in the first place. The great thing about finding our home is the Kingdom of God is that the house warming gifts never stop coming. Therefore, do not get hung up on just one of them, because, trust me, there are plenty more where that one just came from. As the Apostle wrote, "Draw near to God and He will draw near to you" (Jas. 4:8).
As you reflect furter upon this passage of Scripture, here are some questions for you to consider:
What have been some of your divine consolations in life?
How does drawing back to those moments make you feel? Does it make you feel thankful all over again?
Do you find moments to bear witness to your divine consolations to others who may need to hear them?