The Liturgy is Forming a People to be Present Before God (24th Sunday OT) Year C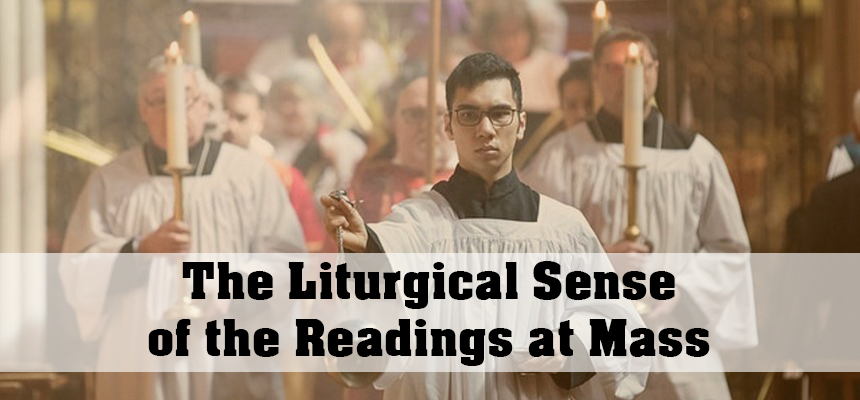 Twenty-Fourth Sunday in Ordinary Time
Exodus 32:7-11, 13-14
1 Timothy 1:12-17
Luke 15:1-32
This Podcast is also available on Apple iTunes — Spotify – and Etcetera and Etcetera
The backdrop to today's First Reading from Exodus 32:7-11, 13-14, is found in verses 1-8 where we discover that the People had become anxious over Moses delay in returning from Mount Sinai where he went to commune with the Lord. So the People gathered around Aaron and pressed upon him to make up for them a god that they could worship. Now, carefully notice what Aaron has the People do here. He tells them to bring him all of their gold jewelry; their rings and earrings, and after they do, Aaron makes out of them a molten golden calf and then tells them, seemingly with a dose of sarcasm, "These are your gods, O Israel, who brought you up out of the land of Egypt." He then made them an altar and proclaimed a feast day. In giving the People what they wanted; turning their prized possessions into their god was a exercise in mockery by Aaron, as he would confess to Moses later, saying, "Let not the anger of my lord burn hot; you know the people, that they are set on evil" (v. 23). God delivered these People out of bondage from their enemies, preserved their lives in the desert, and was leading them to the Promised Land, but how quickly God noticed how they had become depraved and turned "aside from the way I pointed out to them, making for themselves a molten calf and worshiping it."
It is true, God is always making Himself present to us, despite that fact that we are always getting lost in the allure of the world. This is the narrative throughout Scriptures, from Eve to Cain to the Apostles. This is the story in our own lives as well. It is also the common theme of the readings at Mass today and the cycle of human inclination that the liturgy of the memorial sacrifice intends to deliver us from.
In today's Second Reading from 1 Timothy 1:12-17, Saint Paul rejoices in knowing that despite the fact that he was a blasphemer, a persecutor of Christians, and an arrogant man, God showed him mercy. Paul had become lost in the world, and it was in the cave of his dark wanderings when God became present to him and gave him the grace to have faith in the Lord Jesus Christ, who Paul says, "came into the world to save sinners. Of these I am the foremost."
Then in the Gospel Reading from Luke 15:1-32, Jesus offers three parables to illustrate how far God will go to become present to those who have become lost. God reaches deep into the desert our wounds to let us know that He loves us. God is the Good Shepherd who leaves ninety-nine sheep in the desert to go after the one that was lost and on his shoulders carries it back home to the flock. Like this lost sheep, Jesus said, "There will be more joy in heaven over one sinner who repents than over ninety-nine righteous people who have no need of repentance." Jesus then teaches that God is like a poor woman who has only ten coins, but one of them she has lost. She searches carefully for it and rejoices when it is found. Jesus says, "In just the same way, I tell you, there will be rejoicing among the angels of God over one sinner who repents." Then there is the story of lost son who returned home. He had a great speech prepared for his father, but at first sight the father ran to him, "embraced and kissed him." Even when the son does get chance to say some of what he wanted, "Father, I have sinned against heaven and against you; I no longer deserve to be called your son," his father just ignores it and begins planning the biggest celebration he's ever given to one of his sons.
Together, these readings at the Holy Mass this Sunday remind us of the fact that like a young boy in love God trips over Himself; going through extreme measures to court us, to woo us, and to bring us home. The liturgy not only celebrates this undying love of God for His People, but it also forms us to be a type of People who are always making themselves present to their Creator so that He might be more fully present to them all the days of their lives.
I remember when I was student in grade school and even when I was a teacher in Catholic schools, the apparent monotony of taking attendance. Derrick Smith – here, Mary Alice – here, David Gray – …., David … has anyone seen David? One student might volunteer information about the missing student, saying 'He is in the principal's office, or they are sick, or with these kids today, they say, 'they are here on Apple Facetime with me.' So being in attendance in class was very important, but then there was the act of being present in class, which was something distinct from just physically being there. Being present in class required a due attention to what the teacher was offering in the manner of instruction. Being present meant having your pencil sharpened, your book on the correct page, paper available to take notes, and leaning forward with eyes and ears to receive the lesson being taught. If you did not have these signs of being present, the teacher might call on you to catch you off guard or give you a dirty look. 'David, are you paying attention? Are you lost?'
As for the liturgy of the Mass, it too recognizes that we are there are in attendance – thank you for coming, but from the Procession Rite onward, what the liturgy is doing by compelling us stand, kneel, sit, sing, respond, pray, confess; again stand, kneel, sit, sing, respond, pray, confess, again – is the liturgy is teaching us how to be present in God, so that we might not ever become lost in the world. Stand, kneel, sit, sing, respond, pray, confess; again . . .
Did you notice as kids that we did not even think about what it meant to become a student, but all of that monotony in the classroom eventually wore on us and then we got it; we got what it means to become a student and that's when life changed for us and life became academic. We realized that life itself is a classroom and we always have to be in attendance, alert and ready to listen, learn, take notes, and pass tests.
Similarly, after the Ite, Missa est; that is, Go, you are dismissed, the liturgy intends to have worn on us, so that we might take that repetition of what it means to give glory and honor to God by being present before Him who has become present to us, and to live in that sacrificial disposition outside of the nave. Just as we eventually become a student outside of the classroom, the liturgy is forming us to be a Eucharistic People outside of the Church sanctuary. What the liturgy is calling us to do physically during the Mass; that is, stand, kneel, sit, sing, respond, pray, and confess, it is also intending for those actions to become who we are in our heart.
The heart that lovingly stands at attention to the Word of God, kneels in reverence, sits and listens at the feet of Christ, sings songs of rejoicing, prays unceasingly, and repentantly confesses its sins after the Ite, Missa est, belongs to a person who truly lives the liturgy of the memorial sacrifice in their daily life, and that heart belongs to a person who will never become lost in the world.
This is just one way how the readings at Mass this Sunday connect to the liturgy and how the liturgy is forming us how to live our lives in the world. Be in the world what you have received through the liturgy.